There will be a Custom Room. There will be a Free Fire (FF) Esports Mode setting, one of the official settings for the Tournament. Maybe those of you who want to do Squad battles, of course the new settings will help players make it faster and easier.
There are still many new and interesting things that are present in this game now, of course all of them are here for you to try playing immediately. Because indeed the updates that will be coming to Free Fire are quite a lot, even you don't want to miss it.
Even on the Free Fire September 2021 Advance Server now, there are indeed a lot of new updates that you should try. Everything is quite profitable for us to feel, because there will be many new features for you to try in this game now.
Including for Custom Rooms There is a Free Fire (FF) Esports Mode setting, maybe you will try it now and it will be helped. No need to bother setting it up anymore, because of course you just have to select that part to do it right away when you want to play.
Custom Room Has Free Fire (FF) Esports Mode Settings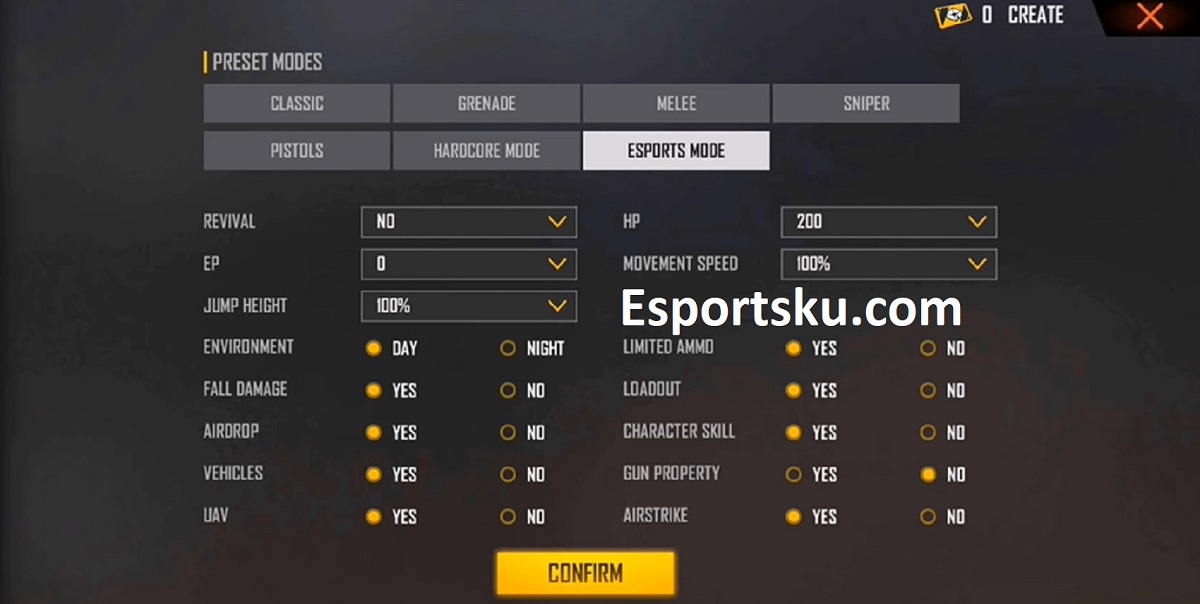 So we can say that soon this game will get many new updates, even including the changes that are present in the Custom Room. Because later there will be an Esports Mode Setting, to make it easier for you to make the match more exciting.
We can say that if this is one of the settings that we can use, the game will feel like a tournament. Even things like this will change the flow of the game for the better, you can even feel the Esports settings from Garena Free Fire directly.
You can also enter this setting in Battleroyale Mode or Clash Squad, but for now, Advance is still available from BR Mode only. We may have to wait a little longer, if we really want to experience the Settings for Clash Squad mode later.
Now, if there is a setting like this, it is certain that doing Free Fire Sparing will not be difficult at all. In fact, you will find out later what will appear, you just need to wait for time for it to be released in this game as well.
So that later, no one will miss it, even from this Esports setting, we can still change it. But later it might affect the game, you as Room Master in this Custom, have to do your best in managing it.
But if my advice is for those of you who want to spar or have a tournament, it's better to just use Esports Mode. So that this setting has been official from Garena Free Fire, so you can feel the sensation of playing like a Tournament like FFML or FFWS later.
It will definitely feel more exciting and challenging, what do you think about the latest settings like this? Maybe this will add to the playing experience, to better understand each tournament setting that is present in the game now.
After knowing that the Custom Room has Free Fire (FF) Esports Mode Settings, now is the opportunity to practice playing too. So that when you suddenly join the Custom Room like this, you are already prepared and will not easily submit to the enemy.
Understand 20 Tips to Become Like a Free Fire Pro Player, so that you have the opportunity to compete stronger than before. Because this is indeed one of the right choices, so that later we can't miss anything at all.