Know the Gift Contents of the Free Fire Anniversary Exchange (FF), so that later you will still get many interesting prizes. Even this will also give a good impression, so that you have new things that exchange for an even cooler account.
Moreover, for now we also have lots of cool mission events, for you to complete and maybe interesting. That's not all, you'll probably like some of the new stuff because it's still happening now.
Especially from the 4nniversary Free Fire Event itself, you also have many opportunities to get prizes easier. Because they only need to do an easy Mission and Event, then they can receive the main prize.
Then then for the Gift Contents of the Free Fire Anniversary Exchange (FF), you have to know it and don't miss the prize. Because every gift that you will get later, may make its own profit, of course.
Contents of Gifts from Free Fire (FF) Anniversary Exchange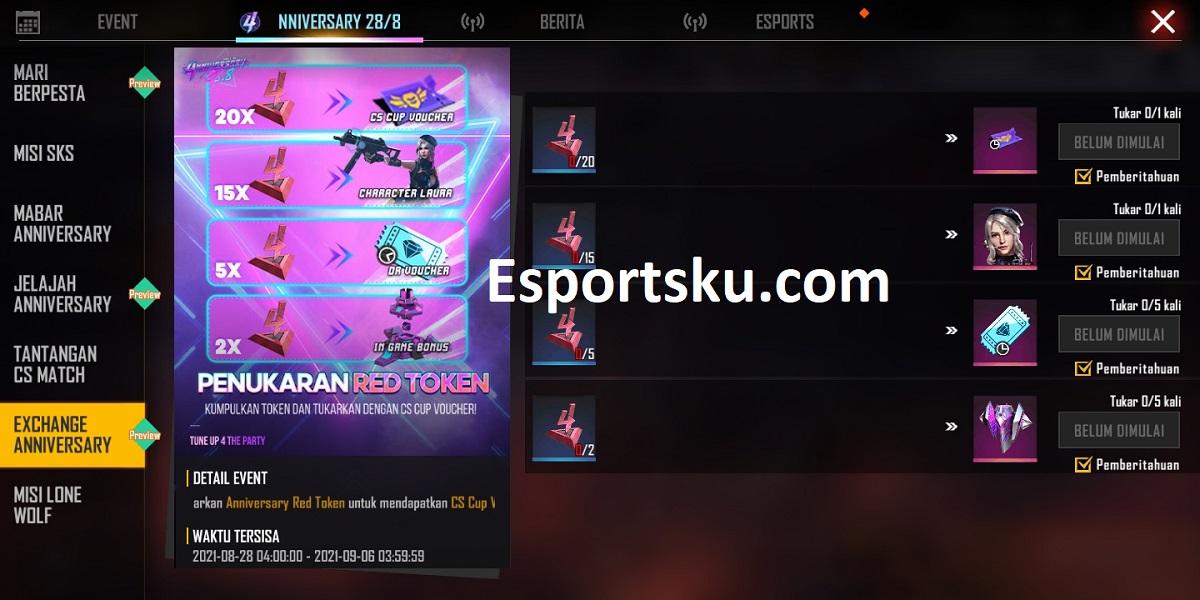 The redemption event will take place from August 28 to September 6, you must know what prizes are present now. So that later after getting this main prize, maybe the players can immediately use it to compete.
2 Red Anniversary Tokens: Dj Rig Statue Free Fire (Max 5 Times)
5 Red Anniversary Tokens: Diamond Royale Ticket (Max 5 Times)
15 Red Anniversary Tokens: Free Laura Character
20 Token Red Anniversary: ​​CS Cup Free Fire Ticket
Every prize that we can get at this exchange event is indeed a lot, even if you are diligent you will definitely be quick to try it. Maybe one of the prizes that you can get from here is quite helpful, especially for the CS Cup Ticket.
This event must require a special Token, now you can try directly How to Get the Free Fire Red Anniversary Token as well. So that we can use it to exchange these gifts, because everything is present it is very easy for us to get.
You will probably have a good opportunity, so that later you can still participate in the Clash Squad tournament and lots of prizes. Considering if the Free Fire Clash Squad Cup will open this month or later in September, it will certainly be more exciting.
Make sure you have a good opportunity, so that you will continue to give lots of attractive prizes and some opportunities to participate. Maybe for other additions you can indeed get it from here, following the event in the Fre Fire game later.
Because getting here there may also be some prizes from other events, so that nothing is missed at all. Even from all these Missions and rewards, there might be some new things that you might get too.
So during this event process now, players must be able to follow and complete every event mission that appears. So that they can all have lots of gifts and wear them too.
What do you think about this new event, we can have this gift exchange right now and don't miss it. It's only in the Free Fire game for a few days, if you don't follow it, you will definitely lose a lot.
After knowing the Gift Contents of the Free Fire Anniversary Exchange (FF), then use this opportunity to own every gift. Surely you will feel excited, because some of the items we can have now.
Especially for the presence of the Elite Pass Season 40 Free Fire Bundle Leak, maybe this is a good opportunity for us to collect. Because of this new bundle gift, it has a very cool appearance.
Keep visiting Kabargokil for the latest information, Follow our Kabargokil Instagram and YouTube news, too!