Hi Buddy Booyah!
Advance Server FF this September brings a lot updates new. Not only focus on character and feature updates, there are updates also on balance skills of existing Free Fire characters.
Chronoz got another nerf on Advance Server FF this September. This is the second time Chrono has gotten nerfs on the Advance Server after the January 2021 version yesterday. Want to know how the nerf that Chrono got on Advance Server FF this September? Here's the discussion.
Also Read: Agent Hop FF Rabbit Pet, New Pet in FF Advance Server September 2021!
Also Read: Mystery Character Advance Server September FF Has the Skill to Find the Enemy!
Chrono Gets Nerf Again On Free Fire (FF) September Advance Server!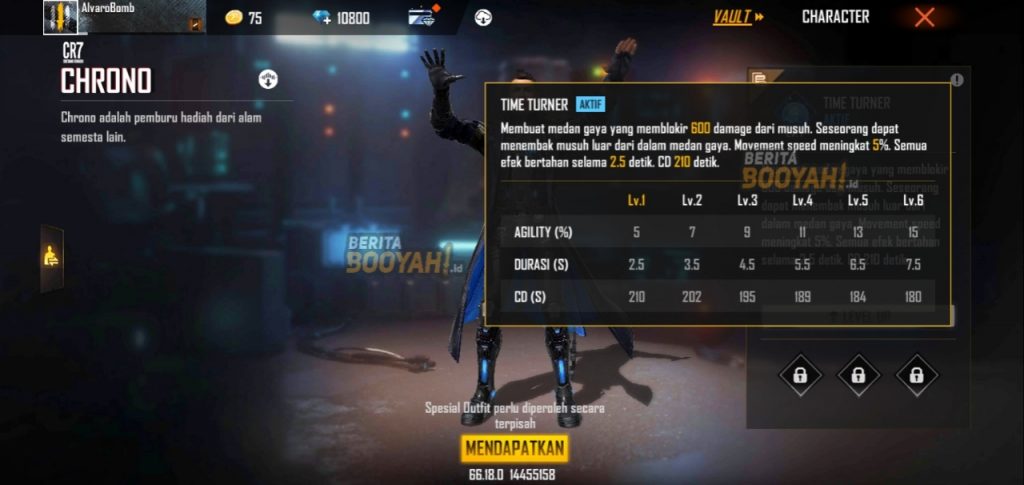 Chrono has skills active named timeturners, that is, being able to make shield which can withstand 600 damage for a few seconds.
Chrono's ability to protect players from enemy attacks when shooting at opponents makes the Time Turner Chrono skill very effective overpower in Free Fire, and current META.
But on the Free Fire September Advance Server, Chrono got a nerf. Precisely the nerf on the active duration of the shield and the duration cooldown which is now longer.
Duration active skills reduced from 3/4/5/6/7/8 seconds to 2.5/3.5/4.5/5.5/6.5/7.5 seconds
Duration cooldown increased from 200/192/185/179/174/170 seconds to 210/202/195/189/184/180 seconds
What do you think about Booyah? skills Chrono who has got this nerf? Will it still be overpower and META?
---
Don't want to miss a series of other interesting information about Free Fire? Don't forget to follow TikTok, Instagram, Facebook, and YouTube from Booyah News!