Choose Your Favorite Gun Skin for Free at the Booyah Style FF Event!
The Booyah Style event has arrived at Free Fire (FF) to welcome September 2021, and at this event there are lots of missions that players can complete.
Of course, by completing the available missions, Spinners can also get lots of cool prizes.
Also Read: Latest FF Redeem Code September 8, 2021, Take Gas!
Well, one of the prizes you can get at the Booyah Style event is a slick gun skin of your choice!
Choose Your Hero Weapon!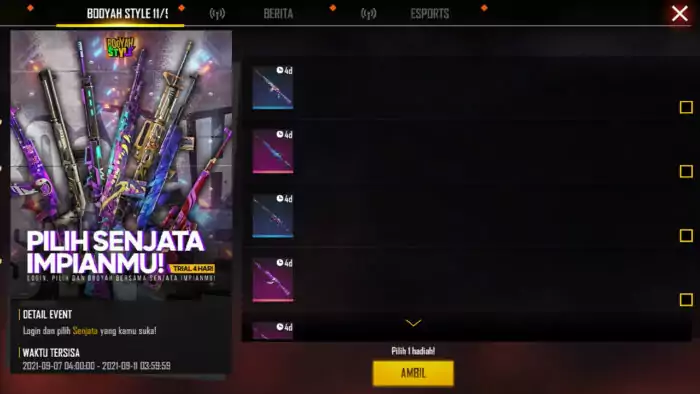 This Weapon Pick Event will be available from 7-15 September 2021, and basically there will be many gun skins on offer, and Spinners can choose the one you want to use.
Below is a complete list of these weapons:
M14 – Lively Beast
SKS – Duchess Swallowtail
Parafal – Egg Hunter
AN94 – Spikey Spine
SVD – Swordsman Legends
M1014 – Enhanced Armor
M41 – Scorching Sands
SCAR – Cupid
Also Read: Use Your Favorite FF Characters for Free at Booyah Style Events!
Also Read: Free Fire Max Vs. PUBG Mobile: These are the 3 Differences between the Two Games!
As explained above, players will be able to choose one of the 8 gun skins to use in the game.
Because this gun skin is a Trial, players will be able to use it for 4 days, therefore, make sure to use the gun skin after selecting it.
That's information about free gun skins at the Booyah Style Free Fire (FF) event! Don't forget to visit the SPIN Website for other latest updates, and follow our Instagram and Youtube.