Can You Get Cheap Mathilda and Starlight Skins in Mobile Legends, How?
The Mathilda Mobile Legends skin event is currently taking place, namely 100% Diamond Rebate.
In this latest Mobile Legends event, you just have to top up directly in the game and get it right away Mathilda skins for free and can 275 diamonds.
Why is it said to be free because yes, you are the same as top up diamonds and get free skins. It's different from if you buy skins in general, where you top up diamonds and use those diamonds to buy the skin you want.
To see the event, you can see below. So, after you top up, you can immediately get the Elite Mathilda Floral Crown skin and wait for time 7 days to get 275 diamonds.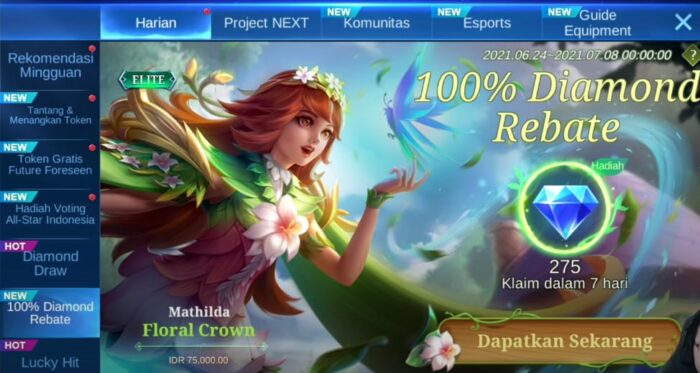 READ ALSO: Build Eudora Mobile Legends Newest and Worst 2021
Mathilda Mobile Legends Event Quest
But don't worry, you can get your diamonds faster by going through the existing quests. You can see the quest below.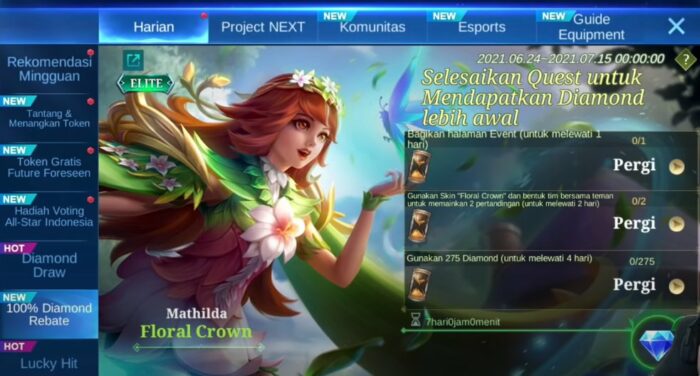 Share event page to skip 1 day
Use the "Floral Crown" skin and play with friends 2 matches to pass 2 days
Use 275 diamonds to pass 4 days
So, you can save your time to get your diamonds faster. But SPIN Esports recommends not completing quests using 275 diamonds to add 4 days you get it because you really love it if you do.
Starlight Mobile Legends skins
Suggestions from SPIN Esports you better use 275 diamonds it's to buy skins Starlight in July 2021 (event until September 2021 only once), Why is that?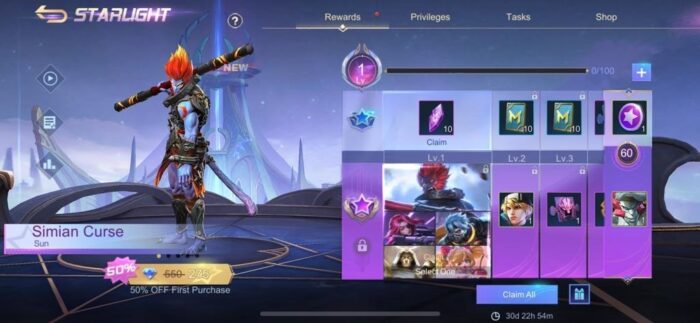 Because the Starlight Mobile Legends skin starting from July – September 2021 is having a discount 50%. If you usually have to spend 550 diamonds to getn skins Starlight Mobile Legends, you just need to take out 275 diamonds only.
Of course you can use the diamonds you get from the ongoing Mathilda skin event and it will disappear in a few days (July 8, 2021).
Well, for those of you who happen to have not participated in the event and want to participate and follow the tips from SPIN Esports, coincidentally, SPIN Esports has a recommendation for a cheap, safe and reliable top up place. @nexusstore.id which you can check below to join this Mathilda skin event and at the same time buy Stalight for free.
Well, how about Spinners, with these tips, you can get the Starlight skin cheaper and you can even get the latest Elite Mathilda skin in Mobile Legends.
Hope this helps, Spinners.
READ ALSO: 5 Most Powerful Counter Cyclops Heroes Part 2, Make Him Auto Brown!
Don't forget to visit the SPIN Website for other latest updates, and follow our Instagram and Youtube.