Hi Buddy Booyah!
Free Fire has just introduced two new characters. Both are special characters of Free Fire collaboration with DJ Dimitri Vegas and Like Mike. These two famous figures are present in the Free Fire Game as Dimitri and Thiva characters.
Dimitri comes with the active skill Healing Heartbeat with HP regeneration and self-reviving abilities. Meanwhile, Thiva with her passive skill can increase the revive speed and provide additional HP after revive.
Also Read: 5 Tips to Avoid Getting Killed Early in the Game When Playing FF
Also Read: 5 Safest Drop Locations in Free Fire (FF) for Passive Play!
At first glance, there is a match in these two new character skills. This is a similarity in giving special effects in the revive process. So the question arises, "Can Thiva's skill speed up Dimitri's self-reviving process?"
Dimitri's skill is capable of doingn self-reviving or wake yourself up without the help of other players. However, this self-reviving time is time consuming 5 seconds. longer than the normal revive process that lasts 3 seconds.
On the other hand, Thiva who was also released at the same time as Dimitri had a skill that increased the revive speed. How about using Thiva to speed up Dimitri's self-reviving skill process to be equal to or faster than the normal revive process?
The answer is, Thiva's skill does not increase the speed when self-reviving using Dimitri's skill. As shown above, the Thiva skill is inactive (yellow) when self-reviving, and the time still runs for 5 seconds.
In Thiva's skill description, it is clearly written that the increase in revive speed only applies to friends, leading to a normal revive process. That is, the Thiva skill cannot give effect to yourself when trying to do self-reviving with Dimitri's skill.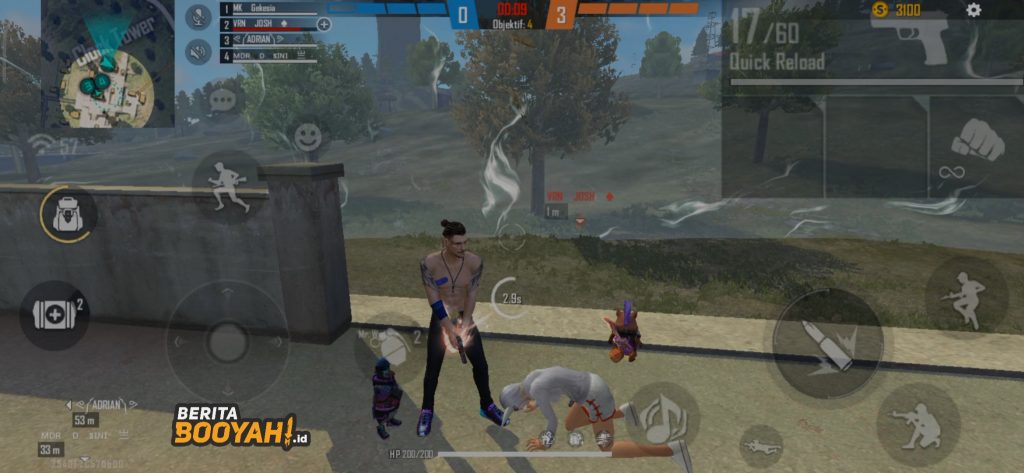 It can be concluded that Dimitri's unique ability is different from the normal revive process. In addition, Thiva's skill is a pure support skill. Combining Dimitri and Thiva is a bit risky and contradictory.
What do you think, Buddy Booyah? Is there still a match between Dimitri and Thiva that makes the two new characters can be mixed and matched with each other?
---
Don't want to miss a series of other interesting information about Free Fire? Don't forget to follow Tiktok, Instagram, Facebook, and YouTube from Booyah News!