You Can Get Free Mobile Legends Skins in August 2021, Here's How! It's so easy you just have to do this!
Free skins in Mobile Legends are eagerly awaited by players. And for today, August 25, 2021, Mobile Legends is back to share skins that all players can have.
There is a new event that is present and it is very easy for you to follow and of course you can get free skins and other prizes.
READ ALSO: Must Know, This is the Difference in Mobile Legends Support Emblem!
Free Skin Mobile Legends August 2021
The event is a Free Lucky Draw where you only need to do the steps that will SPIN Esports below.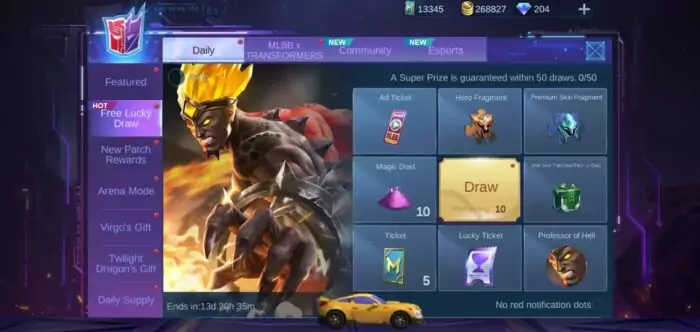 Mobile Legends Login
Not Event Tab
Select the Free Lucky Draw tab
Press Draw in the middle of the existing panel (maximum 10x a day)
Follow the Instructions (Usually Watch Ads)
You Can Get Skins If You're Lucky (Maximum in the 50th draw)
Easy Spinners right? Just follow these steps, you can be sure to get a free skin from Mobile Legends, namely Skin Gord.
No need to do top-ups or other things, just by doing the given task (eg watching ads) you can definitely get free skins from Mobile Legends in August 2021.
---
Cheap MLBB Diamonds

---
So, what are you waiting for, hurry up and login and get a free skin from MLBB. Don't miss it because this event doesn't last long (only about 14 days).
It's a shame that when there is a free event like this, you even miss it. For those who already have this skin, of course, you don't need to worry because of course you can get purple rare fragments that you can exchange for free skins in the Fragment tab, make a list of new skins you can check right here List of Skin Release Updates at Mobile Legends Fragment Shop August 2021
READ ALSO: Will Release Soon, Here's An Explanation of Aulus Mobile Legends Hero Skills
Don't forget to visit the SPIN Website for other latest updates, and follow our Instagram and Youtube.