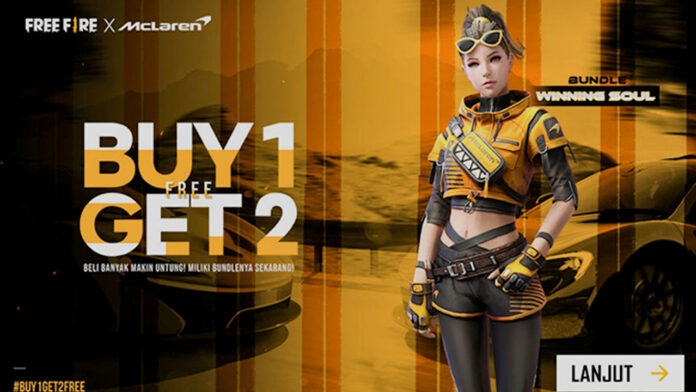 Buy 1 Get 2 Free FF Event Presents a Winning Soul Bundle!
Good news for you fans of free gifts on Free Fire (FF) because the Buy 1 Get 2 Free event is here again!
For those of you who don't know, the Buy 1 Get 2 Free event will offer players 2 free gifts every time you make a purchase.
Also Read: FF x McLaren Event Presents 5 Free Incubator Vouchers!
In this event, the main prize offered is the Winning Soul Bundle which is the latest bundle from the Free Fire x McLaren collaboration!
Buy 1 Get 2 Free Fire (FF) event!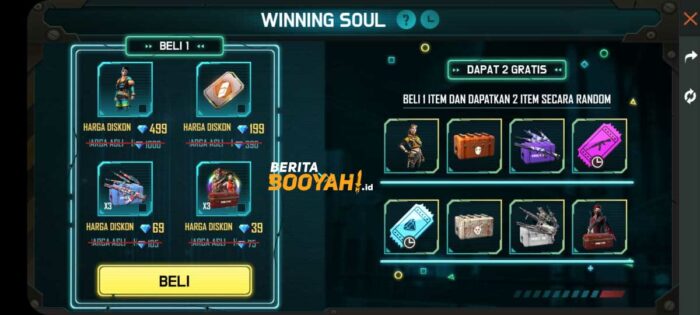 As from the name of the event, every time a player buys 1 gift in the left item selection, you can get 2 free items in the right selection at random.
Each item has a different price, starting from 39 to 499 Diamonds. Here is a list of items that you can buy along with free items that you can receive:
Purchaseable items
Captain Bubbles Bundle – 499 Diamonds
Change Name Card – 199 Diamonds
Loot Crate Winterland – 69 Diamonds
Dynastic Warriors Loot Crate – 39 Diamonds
Free Items
Winning Soul Bundle (Grand Prize)
Facepain Loot Crate
Loot Crate Violet Terror
Weapon Royale Voucher
Diamond Royale Voucher
Fox Box
Superstar Weapon Loot Crate
Duke Swallowtail Loot Crate
Also Read: Get a Free McLaren Racing Backpack at the FF x McLaren Event!
Also Read: New Tiger Pet Coming to Advance Server FF July 2021!
If Spinners have purchased all items in the Buy 1 Get 2 Free Event, you will 100% get all available free items, including the Winning Soul bundle too!
That's the way to get the Winning Soul Bundle at the Buy 1 Get 2 Free FF Event! Don't forget to keep visiting our website, to get the latest eSports news and follow us on Facebook!
source link