Originally posted on March 11, 2021 @ 8:30 AM
So, let's find out the truth and an 8 Counter Skill Pet Dreki Free Fire (FF). Because what we know is that this pet is quite disturbing to you, so there must be a solution by means of the Counter pet so that later it won't make you lose quickly.
Because indeed what we have to do is one of the best ways, so that those of you who compete will have no more difficulties. Even for now, various things related to Counter are always there to try.
For now we've run a lot of new events to try and of course the event is quite good. Moreover, the presence in How to Get Superstar Surfboard Skins, so that the challenges in the new Missions that are presented are the same as Garena.
Even if you compete later, you also have to know, yes, an 8 Counter Skill Pet Dreki Free Fire (FF) which is quite powerful too. By knowing the right counter method, then in the future you will immediately understand all of it.
Curious about the Drreki Free Fire (FF) Pet Skill Counter? Let's look at the explanation of how to do this in the article below right now.
Counter Skill Pet Dreki Free Fire (FF)
Install Gloo Wall
Now the first way we can do that is by installing the Gloo Wall item so that the enemy will not easily enter. Because this Pet Dreki is installed by the enemy, it will give us the position that we are using the Medic Kit item.
That way it won't be wrong if we later install Gloo Wall in large numbers. Especially if you understand Tips for Using Gloo Wall Free Fire now, surely things like that will be easier to deal with enemies using Pet Dreki.
Try to Use Inhaler Items
There are quite a lot of healing items in the Free Fire game and one of them is the Inhealer. When you use an Inhealer item like this, while running or walking you can heal in large numbers.
When you face an enemy who uses this Dreki Pet Skill, try if you are dying to run away while healing using an Inhealer. In this way later, in the future you will find it easier to fulfill HP without being caught.
Use the Right Character Skill
Before we compete later, there are many interesting things that you must do first. As the name suggests, doing Healing by using Characters, because right now there are Free Fire character skills that help heal as well.
Even DJ Alok and Maxim, are the 2 best choices to counter the power of this Dreki Pet Skill. If DJ Alok will issue a large-scale Healing Area, and if this Maxim will provide the use of Medic Kit items and eat mushrooms faster.
Counter Skill Pet Dreki Free Fire (FF) by Providing Lots of Energy Points
When competing in this game, you will indeed have one additional item which is Energy points. Yup, in things like this too, it can be said that the Energy Points given are very influential.
Because when you lack blood, you can heal slowly. Now with something like this, instead of you healing using the Medic Kit and getting caught by Dreki, it's better to just use Energy Points later.
Dare To Go Or Flee
This Dreki Pet can only give us our position if we are using an Item Medic Kit and it will really have a big effect. So we are faced with a forward or backward position.
But if you're in a running position, it's definitely difficult, so just dare to go forward and hope that you can kill the enemy later.
Fishing Skill Dreki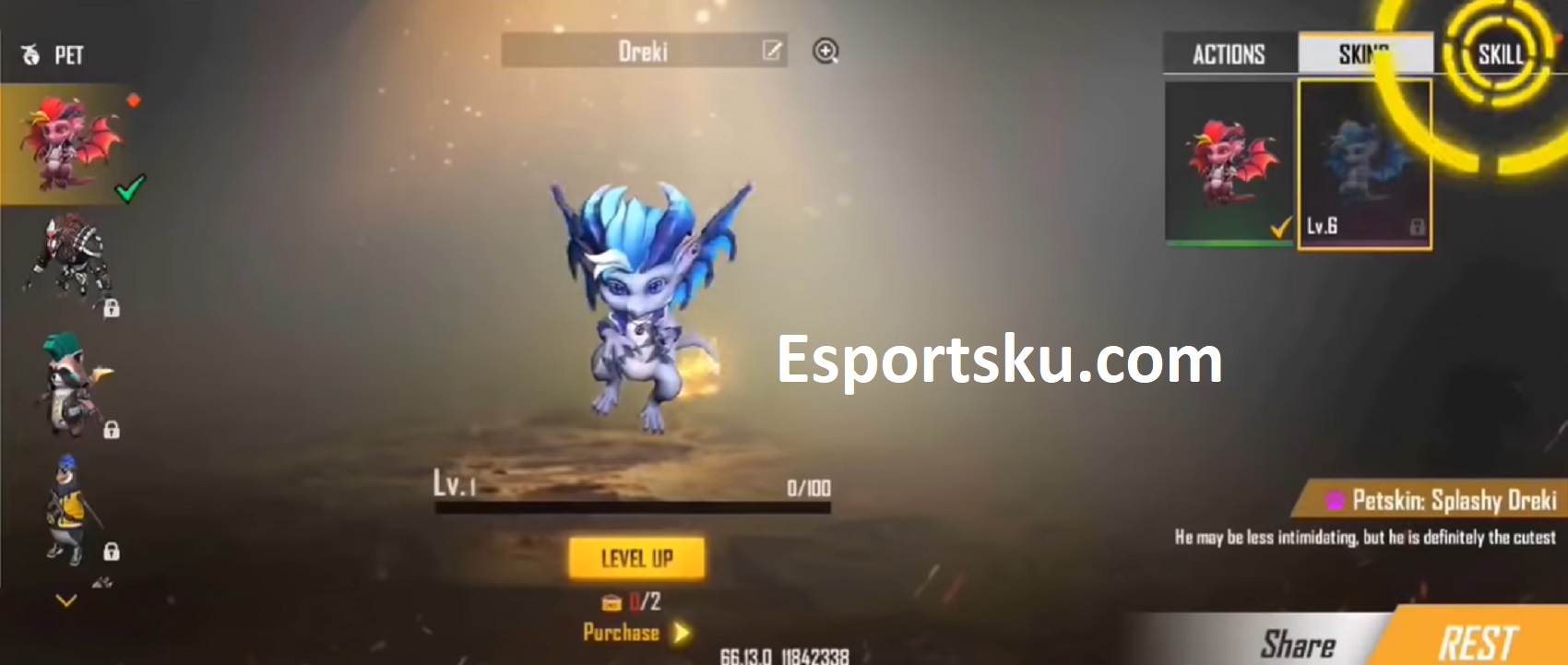 Remember that Dreki will give you a position when the enemy uses the Medic Kit, now when you face the enemy using the pet, give a trick. Where to use the Medic Kit first, then Cancel and run away.
The enemy will also be immediately confused and look for your position, but in this way the Pet Skill will not be useful later.
Distant Healing
If you don't want to be caught by the enemy who uses the Skill, you can take advantage of the situation where you have to move away from the range of this Pet Skill, right.
Because Pet Dreki will provide the latest info for enemies who are wearing Medic kits from a distance of 30 meters. That way, you have to understand and go far when you want to do Healing.
Crash Using Car
This is indeed a fairly classic counter method from the past until now, if you want to defeat the enemy quickly, hit it with a car.
This Pet Dreki skill will also not work very well, because those of you who have hit the Player will be immediately eliminated from the game.
By trying 8 Counter Skill Pet Dreki Free Fire (FF), then later you will have no more difficulty dealing with the Pet. Because this Counter is also powerful enough that the player can't find our position in the match.
Even the presence of the Shirou Free Fire character, becomes a duo with Dreki which is quite deadly. Both of them can dominate the match, but for now maybe no one has used these 2 combinations too often.