These are the 5 Best Free Fire FF Evo Guns, by using them you will become stronger and definitely will not be defeated.
Because the Evo Gun itself is one of the weapon features that we can rely on to provide a better fighting experience.
Especially for the Evo Gun itself, the ability to compete later will be better than before as well.
Therefore, you guys will indeed become even stronger, in dealing with enemies when using weapon skins like that and used in this game.
In particular, you may also have to know, if indeed there is now an explanation about what is the best selling Free Fire Evolution Weapon.
Because indeed, understanding such features well and making it easy, will make all of you not want to miss all of this.
Because for now, there are 5 Best Free Fire FF Evo Gun Weapons ready to be used by the players in the match later.
You just need to know more clearly about the Evo Gun, what it looks like and whether it's good or not when used later.
Curious? see the explanation in the article below.
5 Best Free Fire FF Evo Gun Weapons
Evo Skin AK47 – Blue Flame Draco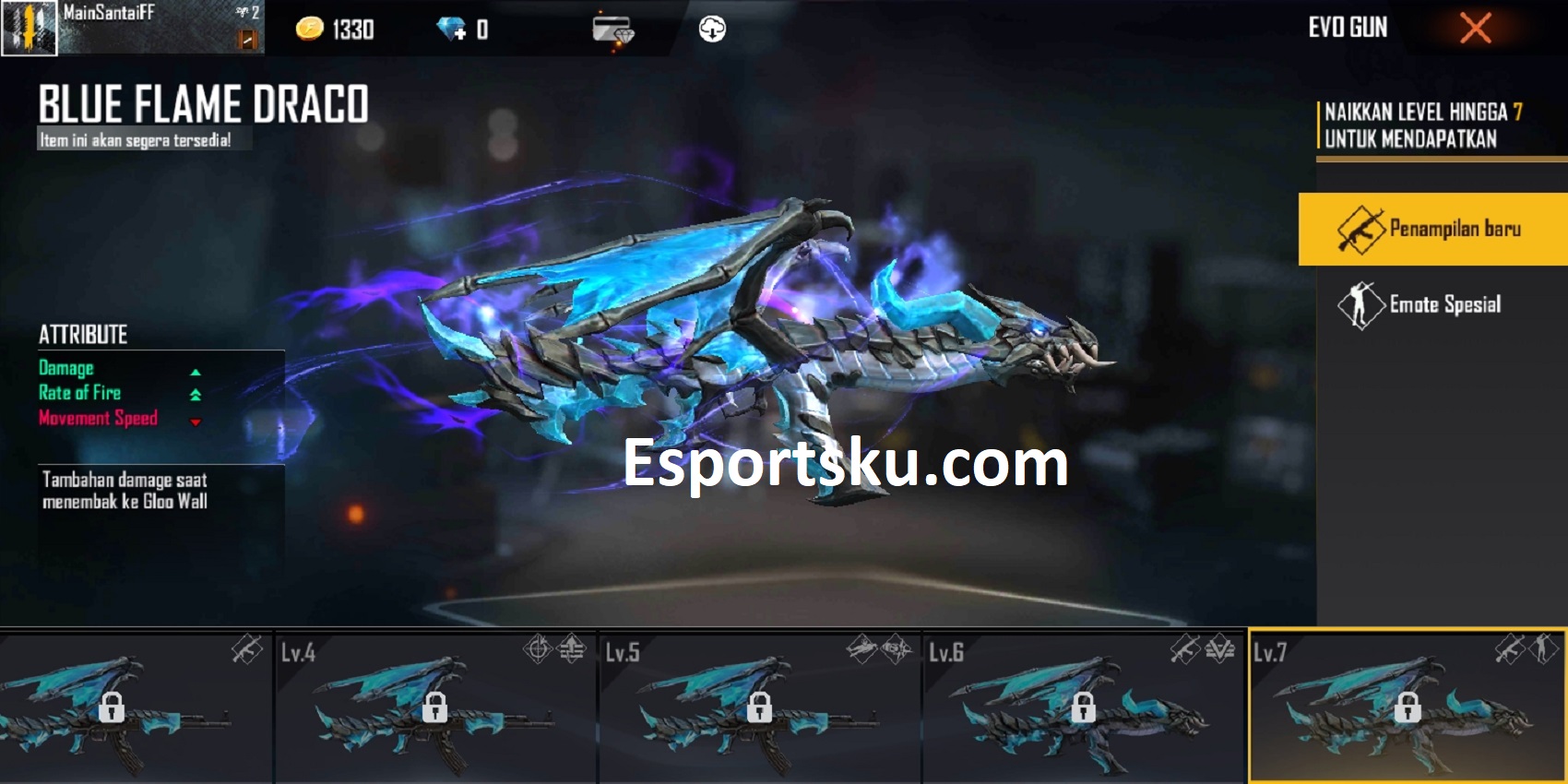 So you could say that the first Evo Skin to appear is the AK47 Blue Flame Draco, where it will come out cool later.
The appearance given to the AK47 Evolution Skin like this, will indeed make you more confident when competing.
Because with the appearance of the AK47 Draco Blue Flame, this skin will later become like a blue dragon that has wings.
By having a cool skin like this, it will indeed be a part you can have right now.
Because indeed for the Evolution Skin AK47 too, it has different levels and you can know now.
Level 1: The stats given to this Skin are Damage and Fire of Rate +, then for Movement Speed ​​reduced by Min –, Skin Evo 1 form.
Level 2: Get a new Kill Feed Announcement, then later Movement Speed ​​Stat will be Min 1 and Skin Appearance will change.
Level 3: The skin on this Evolution weapon will change, there will be a wing that moves when you use the weapon.
Level 4: Added Shooting Effect on Enemies, then increased the Stat in the Fire of Rate section to ++ for later use.
Level 5: Gives a new Kill Effect, and allows you to receive a much stronger firing Effect than before with blue flames.
Level 6: Changes the appearance of the Skin to be more like a Blue Dragon, then adds a special Skill that increases the damage to the Gloo Wall later.
Level 7: Will make this Skin get the Blue Fire Effect, the weapon skin will be cooler and a Special Emote for this AK47 Evo skin huh.
Evo Skin Scar – Megalodon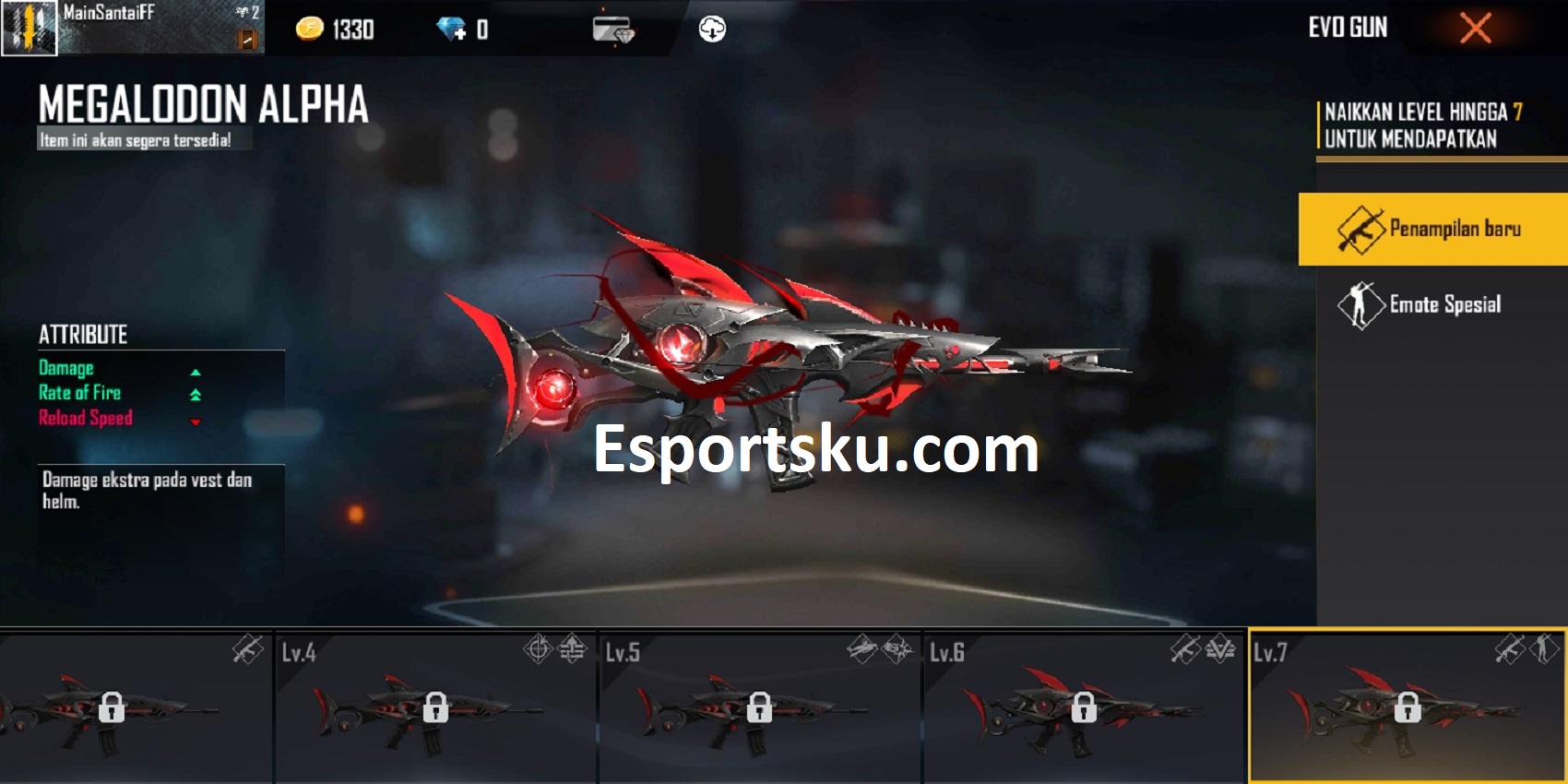 Furthermore, we also have an Evo Skin called Scar Megalodon, yup, this is indeed a part of the skin, which is quite cool.
Because of the appearance given to the Evo Skin Scar, it will be more modern and will make you stronger later
Where all parts of this Evo Skin, have indeed become better and full of strong iron for you to use later as well.
Even the Skin Evo ability is also quite strong when you use it in the match later. Let's see, the level of the Skin Evo.
Level 1: The stats on this skin are Damage and Rate of Fire +, then there's Reload Speed ​​— and the looks aren't that great.
Level 2: Gives a Special Announcement when killing, then the Stats in the Reload Speed ​​section will be reduced to – only you know.
Level 3: Changed the skin's appearance, made it even better and cool enough for you to use later.
Level 4: Give Red and Shark Tooth Hit Effects, then the Stat on the Rate of Fire section increases to ++.
Level 5: The effect of Kill Megalodon Free Fire, then the Effect of Shooting the enemy which finally turns Red when used.
Level 6: Unlocks a special Skill that increases Damage when attacking Vests and Helmets, as well as a cool new Appearance.
Level 7: Get an even newer Appearance, as well as a Special Emote from the Evolution Scar Megalodon weapon Skin.
Evo Skin MP40 – Cobra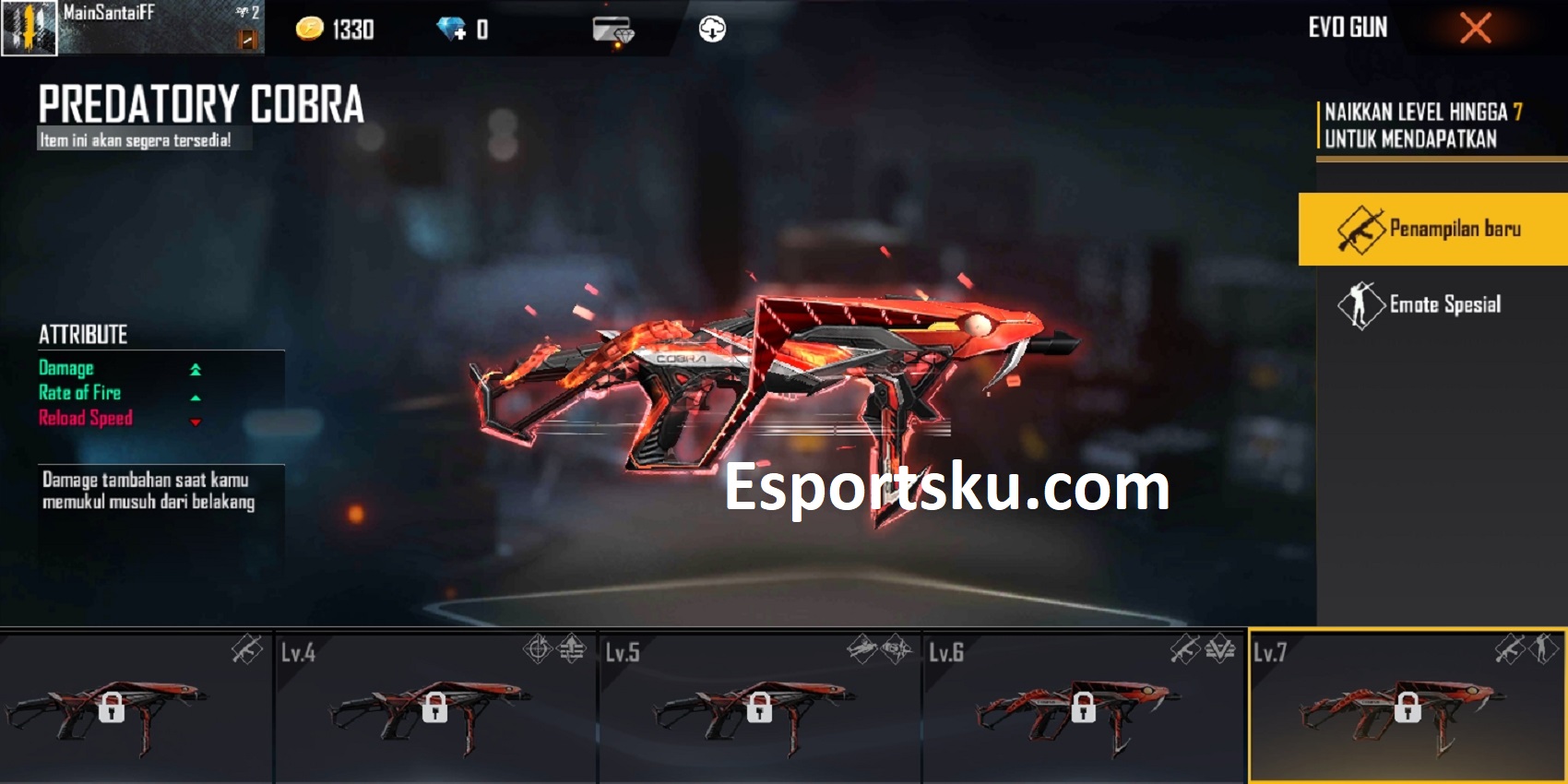 When the Evo Skin Cobra comes, it's quite interesting and you can become even stronger and you don't want to miss it all, right?
Because it is an Evo Skin with the initial appearance of an MP40 Weapon, of course it is one of the best Skins that you can use when playing.
With the Cobra power given to the MP40 Cobra Weapon like that, it will indeed make you better at playing later.
This Evolution Skin is also special, because it is only available at a limited event.
Level 1: Almost the same as Scar Megalodon, where Stats on the Damage and Rate of Fire + and Reload Speed ​​reduction -.
Level 2: Kill effect is Red and there is a pattern from Cobra when given, then Reload Speed ​​is reduced from — to — only.
Level 3: Changed the appearance of this weapon Skin, so that only one Cobra head appears when you use it later.
Level 4: The effect given when hitting the enemy is Blood Red, then the stat increase in this skin is in the Damage section to ++.
Level 5: Kill The effect given to this skin is an angry Cobra, then the color of the effect when we are shooting.
Level 6: This skin will turn into a Huge Cobra's head, and it will deal additional damage when attacking from behind.
Level 7: Give this Evo Skin a shiny color, and you will get a special Evo Emote from the Cobra.
Evo Skin M1014 – Green Flame Draco
Then the one that just arrived and was released yesterday, the M1014 Green Flame Draco we can indeed use quite well during the match later.
Where the Skin is also, it is quite strong and can make us not easy to beat later.
Moreover, each level too, will give the appearance of Evo which is very cool to use.
Level 1: This skin has a new appearance, and you can receive Additional Stat Damage and Rate of Fire + then Reload Speed ​​-.
Level 2: Announcement of a much cooler Kill, with new colors and Poison Effects even the Reload Speed ​​Stat becomes – only later.
Level 3: Give the Evo gun a new appearance, which has Wings and Horns on the front.
Level 4: Effect deals damage to enemies like melted Poison, then adds stats to Rate of Fire++.
Level 5: Added Poison Green Shooting Effect, and Effect when doing a Kill that makes the enemy's body melt.
Level 6: The new look of the Evo Gun becomes Fully Poison Dragon, and gives Additional Skill damage up when shooting gloo walls.
Level 7: Evo Special Emote Bonus, and makes the appearance of the M1014 Evo Skin even cooler with the Green Fire Effect.
Evo Skin XM8 – Thunder Lightning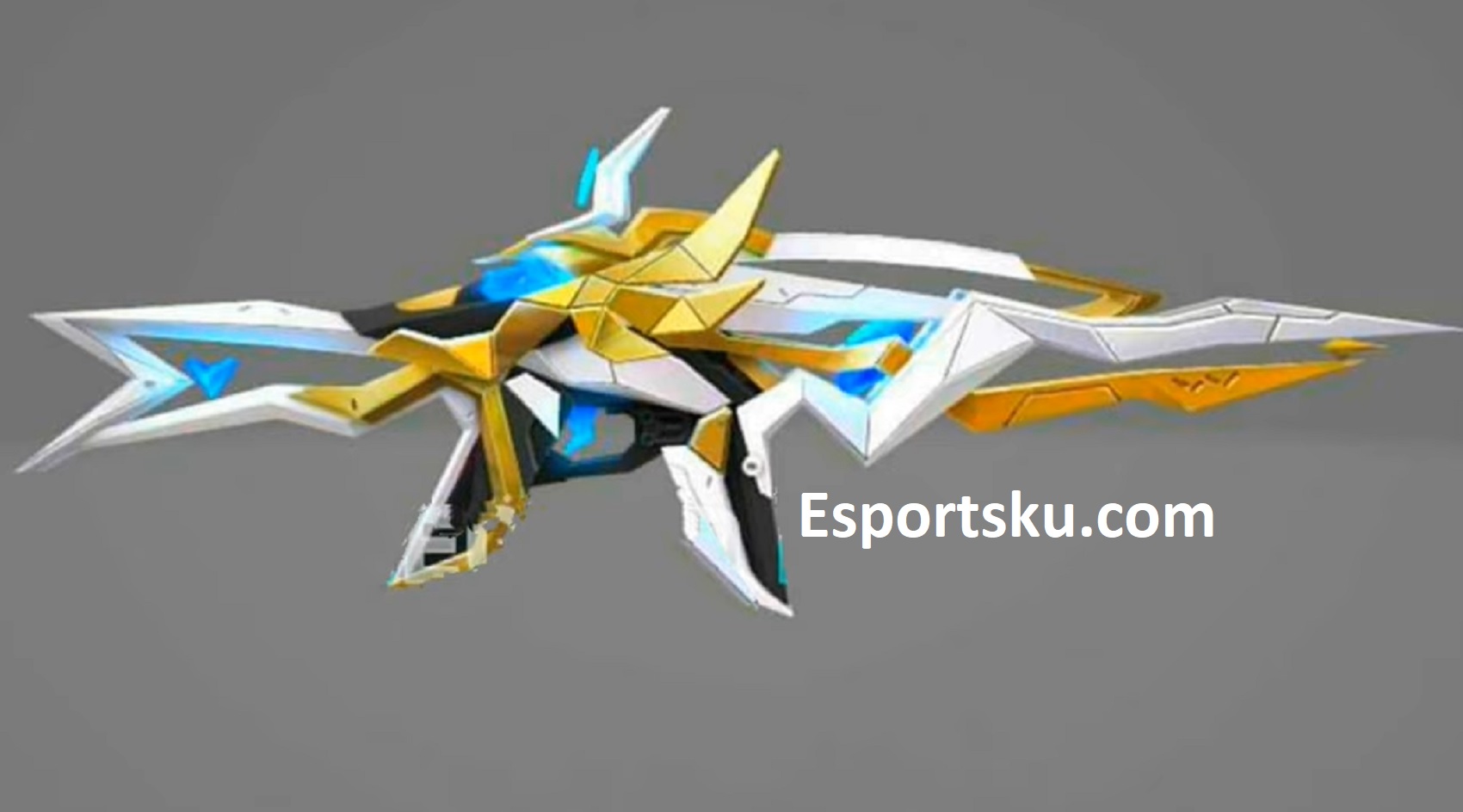 So for this, the information is still not very clear, where the Skin is also quite strong and has a very cool appearance.
Also in the picture, you have seen the Evo Skin which has a fairly strong Lightning or Electric effect.
By utilizing Thunder Lightning XM8 like this, it will indeed make all of you even better later.
There is no additional Stat or Evo description that will occur later.
How much money should be spent on the Evo Gun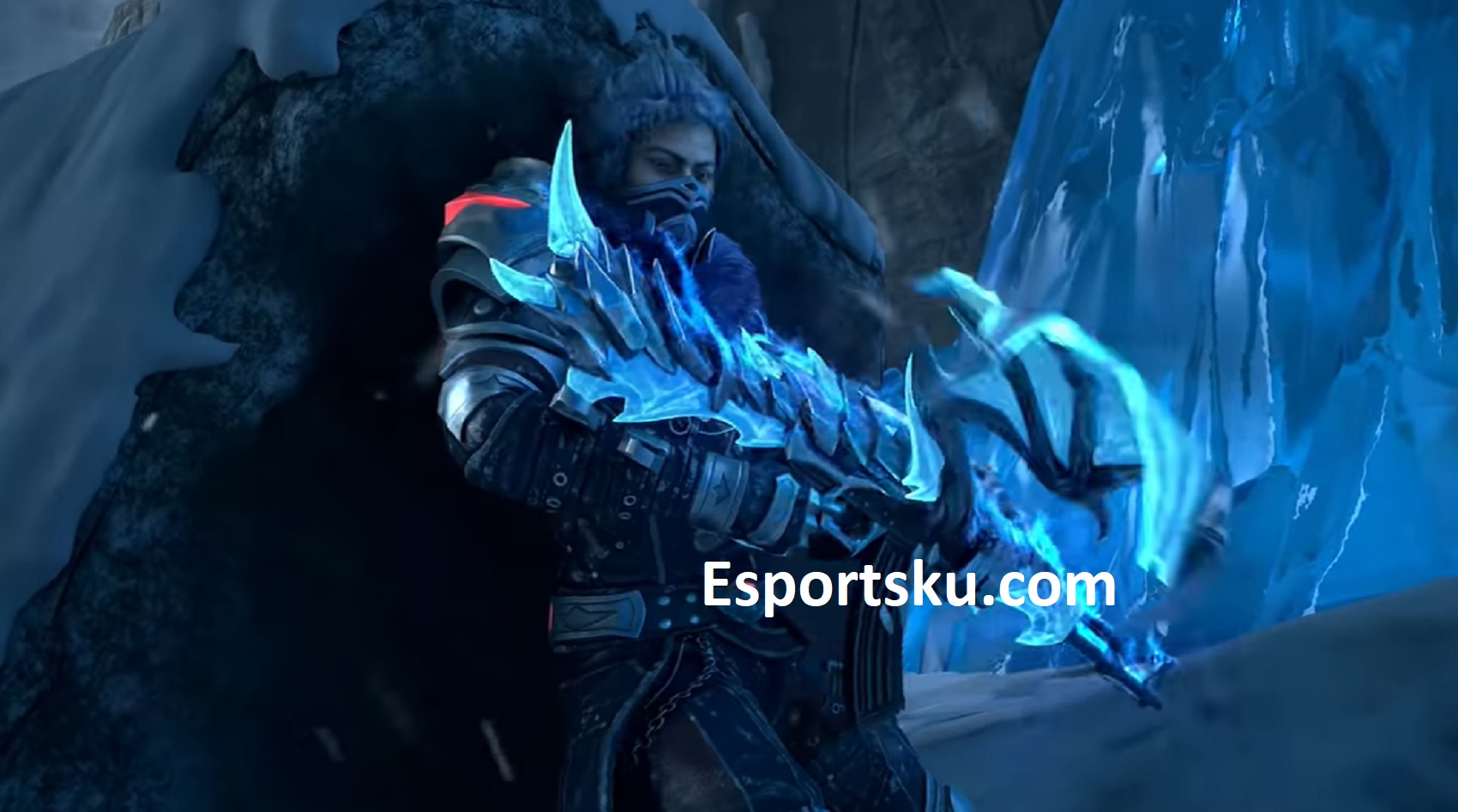 To be able to do Evolution on all the skins of this weapon, you must have 1450 Evo Tokens or around 14500 Diamonds if you want it like that.
If all of that is converted directly, it means that you really need to spend up to a total of 2.5 million rupiah for the Evo Gun later.
Especially when it comes to issuing Evo Guns like that, if you guys want to have it all, you have to spend up to 10 million more.
How? Which Evo gun do you like?
After knowing the 5 Best Free Fire FF Evo Guns, do you want to have one of those skins later?
Maybe by using the skin, it will indeed provide an opportunity to become stronger when competing.
Moreover, you can also know that there are 5 Types of Free Fire Weapons, they can be used quite well later.