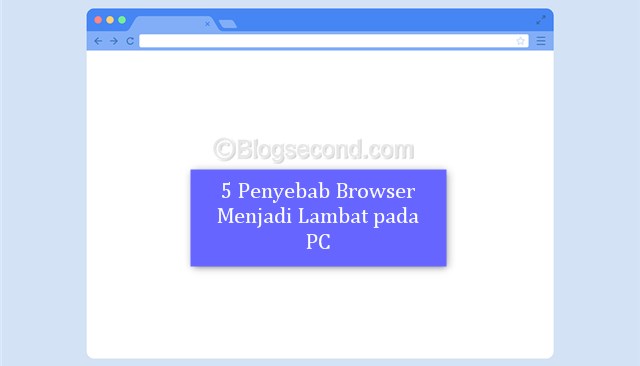 It's uncomfortable to visit websites like Facebook, Twitter, etc. and suddenly the browser slows down so badly that it doesn't respond. It turns out that there is a cause and it can still be easily overcome.
Previously I have also shared the procedure for dealing with a slow Opera browser and the way to fix it is to open the task manager in the browser. But what if this problem comes in a browser like Chrome, Firefox, or others? Must have a different solution.
A slow browser can be caused by several things. This article will only share optimization procedure so that the browser never slows down or doesn't even respond. But this also depends on the user doing it correctly or not according to the tips I gave. And below are some of the things that make the browser slow.
1. Browser Requires More Memory
Each browser requires about 1GB of available space for RAM and sometimes requires more depending on what type of website is open. If you open Facebook, of course it will take more than 1GB because the Facebook website does have a lot resources when accessed.
As a suggestion, if the user's computer RAM is currently only 1GB, try toupgrade to 2GB or 4GB it's better. Because the only cause of a slow browser is a lack of RAM memory.
2. Too Many Websites Open
Be aware that the size of each website is different. This can be known by opening the task manager feature which is usually provided by the browser in the Developer section. One website can sometimes require more than 10MB of memory, sometimes even up to 100MB.
For this reason, users should not open many websites at one time. And as a suggestion, just open a maximum of 3 websites or the equivalent of 3 tabs at a time. But there are also add-ons to help users disable unused tabs automatically. Please head over to this page to try it out.
Also read: Tricks to Prevent Browser Lags with This Extension
3. Has Many Active Extensions
Do users know that extensions, add-ons, or add-ons can also be a burden at any time. Examples like AD Block, VPN, or others. Each extension has a different load and it can be seen in the task manager in the browser.
There is no better suggestion than to disable the extension and activate only a few that are considered important. The fewer active extensions, the less memory the browser will use and that's a good thing.
4. The computer is not protected by antivirus
Nowadays there are so many types of scripts that make the computer run out of control. sometimes can heat up fast when opening a site, and the worst thing is that the CPU continues to increase and does not quickly decrease. Of course there is an oddity behind it.
Always activate the antivirus to prevent the browser from becoming unstable due to malicious scripts. Examples such as script mining that occurs in the background. Most of the current antivirus have considered that the site that installs script mining as a virus which makes the browser unstable.
5. Excessive Multitasking of Programs
It's okay to multitask between the browser and other programs. However, the user must also be aware of how much memory the computer has to run everything at one time.
If you multitask with a program like Notepad, it's certainly not a problem. But if you multitask with a program like a game or an editor like Photoshop, it's certainly not a good idea.
Also read: 3 Ways to Overcome Browser Extensions Not Working
Conclusion
Bottom line, browsers can slow down if they run out of free space on RAM. The best solution is to upgrade the RAM to maximize its performance and don't forget to keep your browser updated.
The last advice I can give is, do a cleaning routine file cachee in the browser once a week. Or if you want an easy way to clean the junk in your browser, just use a similar program Ccleaner, Avast Cleanup, etc.
Hopefully useful and good luck