3 Reasons Genshin Impact Players Ask Yoimiya in Buff!
Yoimiya is the newest 5-star character in Genshin Impact. However, many were disappointed because according to some players, Genshin Impact Yoimiya was not very good.
Even though, judging from the character, Yoimiya is a character designed as a Single Target DPS.
This not only caused disappointment from the players, it was not uncommon for many players from Global and China to ask for Yoimiya to get a buff.
READ ALSO: These are the Strengths and Weaknesses of Yoimiya Genshin Impact that you should know!
The same case as the previous Zhongli where at the beginning of its release Zhongli was not a good character because it was not very damaging even though it was created as a tank (damage resistance).
But after that, Zhongli did get a buff that made his performance increase considerably.
Regarding this, it turned out that this was the reason the Genshin Impact players asked Yoimiya to be buffed.
Miss often
The first problem is the frequent misses that Yoimiya presents when carrying out Normal Attacks, several times players feel this as expressed on his Instagram page. @genshinimpact.indothe following.
Not Good in Spiral Abyss
Spiral Abyss is one of the domains played by Genshin Impact players. Giving a lot of primogems is one of the reasons.
Spiral Abyss is actually always changing for mobs or monsters to fill. However, currently with the Inazuma region, the existing mobs are more or less Nobushi and others.
These mobs are very fast and difficult to hit by Yoimiya who uses a bow and single target.
Single Target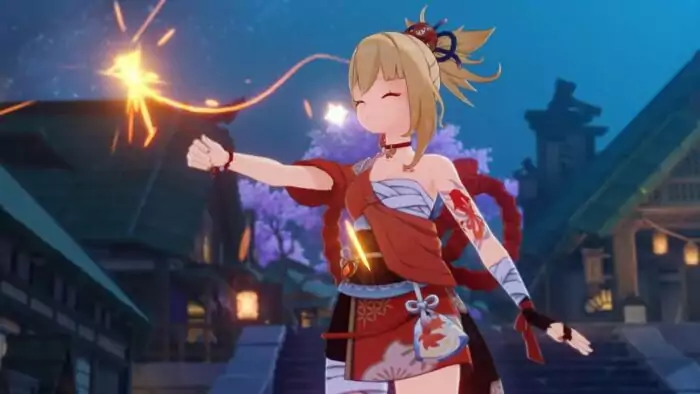 Speaking of single targets, Yoimiya was actually created that way. But it doesn't look optimal for some players who may be used to DPS that can attack the last AoE, there is Ayaka who has extensive attack damage.
Maybe that's why the Genshin Impact players don't like it and protest that they want Yoimiya in the buff.
I don't know what kind of buff the players want, but those three reasons seem to be the main concern of the players.
READ ALSO: Take note, this is the live streaming date for Genshin Impact 2.1, is there any problem?
Don't forget to visit the SPIN Website for other latest updates, and follow our Instagram and Youtube.