Originally posted on March 9, 2021 @ 12:42 PM
The events that are presented in the Free Fire game today, are indeed many and you can try to have them right now. Because there is indeed a Leaked Free FF Character Special for Woman Day Free Fire, this is quite interesting information.
Because later we can get prizes from the event, of course there are many interesting choices to choose from. Because this character is also presented, it is indeed quite useful to be able to try it with all of you.
Especially for now, what we can know is that there are many Character Updates in Free Fire and you have many choices. The choice of the characters given, too, is indeed quite useful, and you can use it well.
Especially if it's true that the Leaked Free Fire Special Woman Day Character Event is present in Indonesia, then you have to join in. Just choose a free character to play with, then claim and use it later.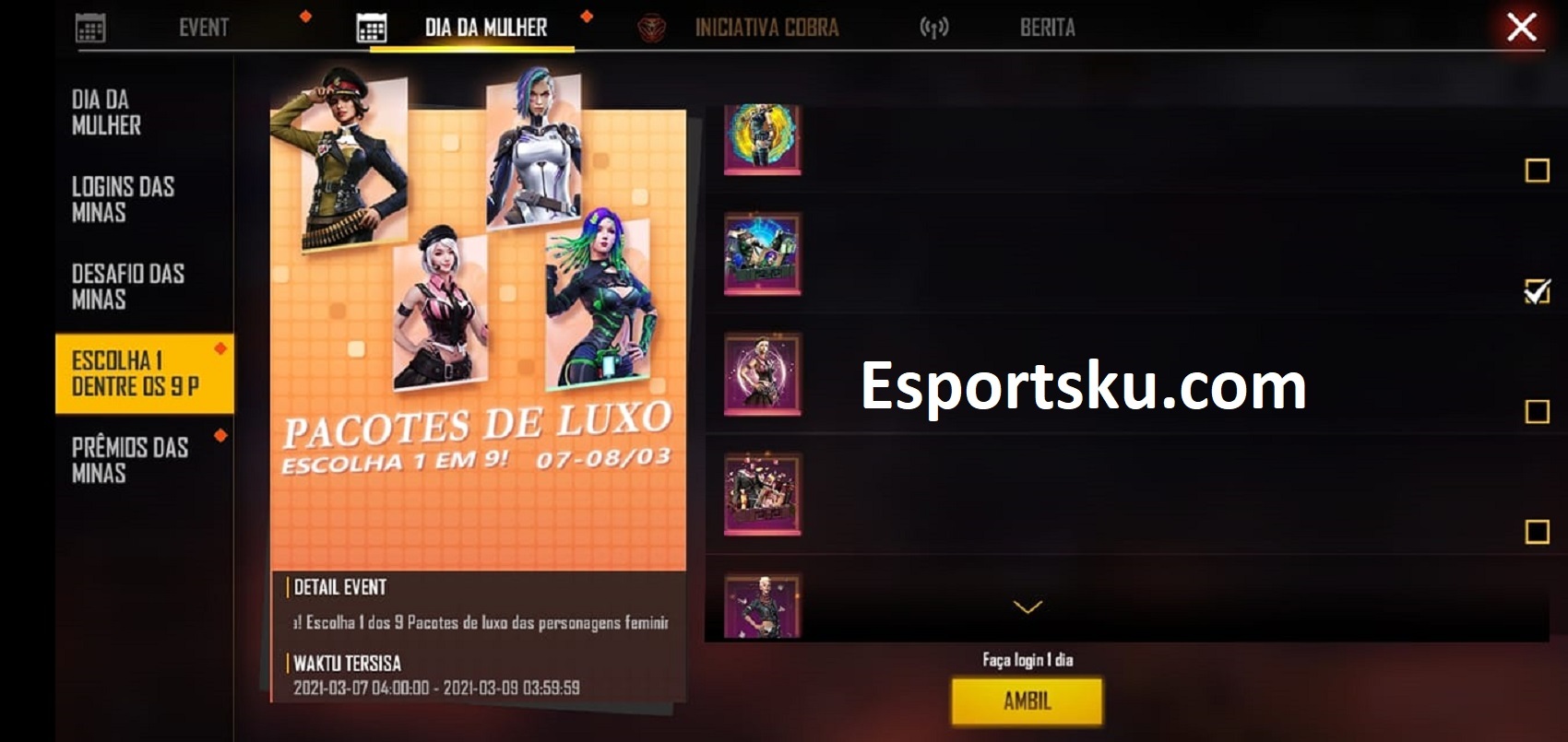 So for new information at this time, you could say that there is another event leak that might be interesting for us to follow. Even though it's still in a recent Leak, this Free Character Event for Girls is quite good and interesting.
Because what we know now is that in March 2021, the celebration as International Women's Day is indeed busy. Even in the Free Fire game, this is given directly by Garena as a new event that will be present.
We really don't know whether this will be present in Indonesia or not, but what is presented may be one of the Free Characters which is definitely good. Because of the Woman Day Special Free Character Event, it's one of the things we shouldn't ignore.
The characters that we can get from this event also have several choices, so maybe if you are present on the Indonesian server, you have to decide first which character to give from this event.
10 Special Free FF Characters for Woman Day Free Fire
List of 10 Free FF Characters Shared by Garena Free Fire:
Kelly and the Bundle
Moco and the Bundle
Kapella and the Bundle
Clu and the Bundle
Laura and the Bundle
Caronline and the Bundle
Paloma and the Bundle
Nikita and the Bundle
A124 and its Bundle
Shani and the Bundle
The event that is here to give this female FF character for free is indeed an option that we shouldn't miss. This is the same as the Father's Day event, where male characters who have the role of father become free on that day.
Then don't be shy about using a nickname, because there is a Free Fire Female Best Nickname that you can try. With that, of course, with things like that, it will make us look more unique by using a cool nickname.
So for the Women's Day Free Fire Special Free FF Character Event Leak, then we just have to wait on the Indonesian server now. Because it's from the latest event, maybe you will have many opportunities to choose the character or bundle.
Everything that is presented here, you really have to choose well. So that later that character, you can use it in the Push Rank Strategy 20 Free Fire. With us knowing things like this, in the future it won't be difficult.
---
In order not to miss new information from online games now, then we can just follow Instagram Kabargokil. By doing that, every day you will know about the new updates that will be given in this Free Fire game later.