1.3 Million Free Fire (FF) Accounts Banned in July 2021!
In mid-July 2021, the Anti-Cheat Free Fire (FF) system has permanently banned 1,348,488 FF cheater accounts.
The reason is, these accounts have been caught using cheating programs to give themselves an unfair advantage.
55.8% of these permanently banned accounts came from reports of suspicious players.
Below is the percentage of cheat modifications used: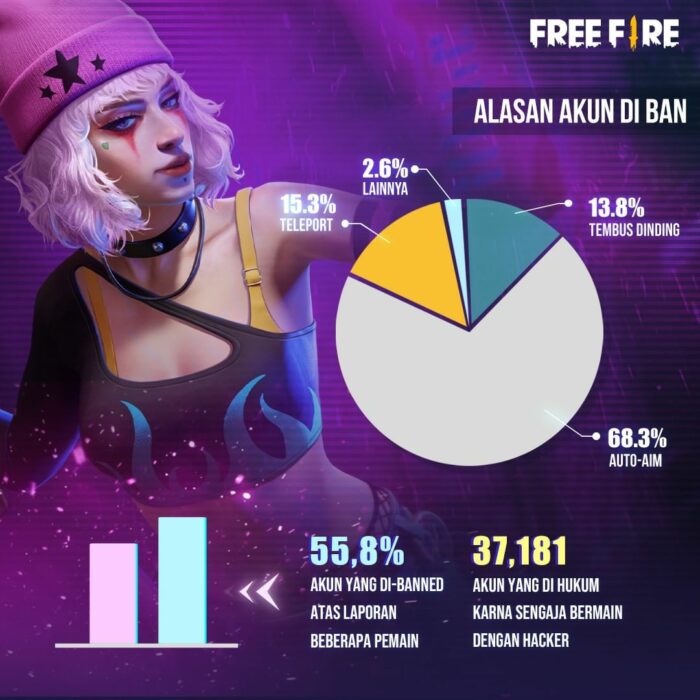 Percentage of cheat types used by FF players in May (Source: Garena)
78.3% Auto-Aim (Headshot)
2.6% other cheats of unknown type.
Players caught intentionally playing with cheaters will also receive a reduction in rank to Bronze I from Free Fire's anti-cheat system.
Also Read: Cool Free Fire (FF) Pet Names Collection! Guaranteed Rare!
Garena also reminded players not to use third-party applications when running Free Fire.
"We also hope and want to remind all Survivors not to log into Free Fire using unlicensed applications and not to take advantage of bugs in the In-game."
Also Read: How to Register & Download APK Advance Server FF July 2021!
Also Read: There's a Rapper Angel (BNL) Bundle & Pants in the Latest FF Event!
That's all you need to know about the 1.3 million Free Fire (FF) accounts that were banned in July 2021.
Don't forget to visit SPIN Website for more information, and follow the account Instagram and Youtube we.